Free Shipping, Pay By Invoice
You want to transport your pet safely in the car? PetCar Seat™ offers you complete protection for your favorite four-legged friend on every car journey. Thanks to the specially thickened material, your pet is always comfortable even on long car journeys and can enjoy the ride to the full.
BENEFITS OF PET CAR SEAT™
✅ Safe transport in traffic
✅ Comfortable premium material
✅ Enough Space For Multiple Pets
✅ Suitable for every car
✅ Quick & Easy to Attach
✅ Less stress for your pet
✅ 30-day guarantee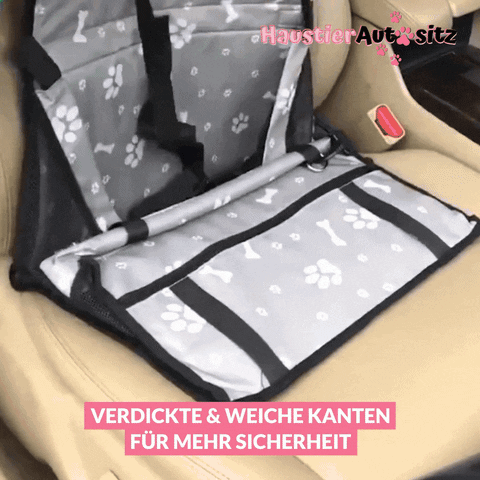 PETS SAFE IN THE CAR
Every pet owner knows the problem of not being able to transport your pet safely in the car on a road trip or for shopping. The solution is the PetCar Seat™. The car seat, specially designed for pets, offers you complete security for every trip in your car.
COMFORTABLE ON LONG RIDES
Long car journeys are not only stressful for you, but also for your pet. PetCar Seat™ can take the stress out of transporting your pet safely. The high-quality and thickened material means your pet is always comfortable and remains calm even on long journeys. This will keep your four-legged friend's stress level to a minimum.
HOW IT WORKS?
Step 1.
Put the included frame in the car seat.
Step 2.
Close the openings with the Velcro.
Step 3.
Attach the seat to your car with the snaps.
Step 4.
After you've attached everything, you're done & your pet can safely ride in the car.

WHAT DO I GET?
Our PetCar Seat™ set includes a car seat in the color of your choice and high-quality packaging. The car seat has the following dimensions: 40x30x25cm and therefore fits in any car. It's a great gift for anyone who wants to protect their pet while driving. Secure your set now and benefit from our fast, insured shipping and 30-day money-back guarantee.
OUR GUARANTEE

We will do ANYTHING necessary to provide each customer with outstanding customer service so that our customers are at risk and completely satisfied.

We make sure that every customer 110% satisfied in every aspect with 24/7/365 FAST CUSTOMER SERVICE!